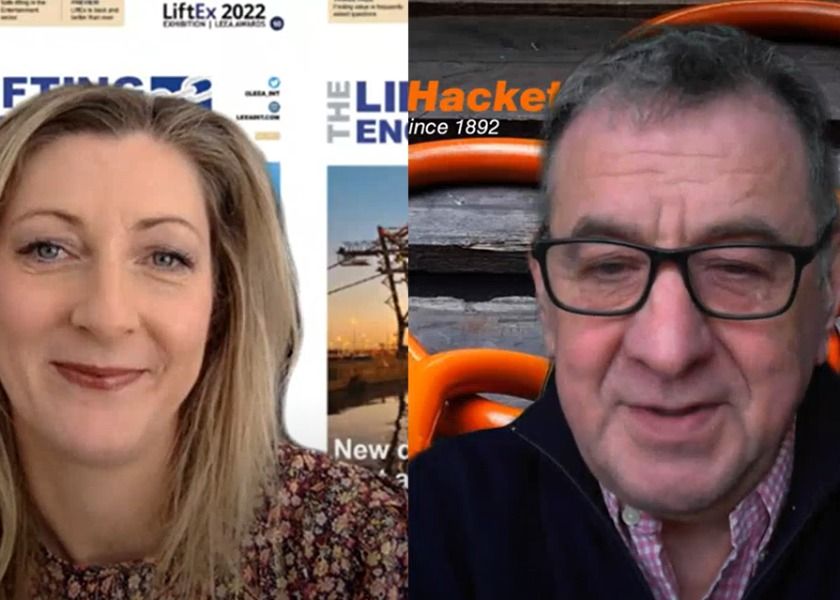 Be my Guest....Ben Burgess
As part of LEEA's YouTube series called Be my Guest…. Jenny Eagle, reporter, catches up with Ben Burgess, director, William Hackett, on becoming a Board Member at the association and what this means in terms of his role there.
Ben Burgess, director, William Hackett recently joined LEEA (the Lifting Equipment Engineer's Association) as a Board Member, continuing the work that his brother Tim Burgess did before stepping down as a member of the board after 12 years.
"I am delighted to be appointed to the board. It's something I've been interested in for a number of years. I see LEEA as I travel globally within the lifting industry and was very keen to ensure its reputation outside of the UK was as strong as it was within the UK. I have a real passion for upholding best standards and best safety practice.
"My brother Tim served on the board for about 12 years and left about 18 months ago then there was a new recruitment process where I was selected and approved in November, just before Christmas."
Burgess explained that one of the things LEEA is keen to develop is its 'Hub-and-Spoke Model, designed to maximise the association's global footprint through regional delivery, so establishing a Regional Council for example in Asia, the ANZ (Australia & New Zealand) Regional Council and setting up a board there where its members are responsible for implementing policies in terms of audit and quality management in that region.
"The ambition is to have a footprint in all of the key marketplaces and to be represented through its membership there by reputable organisations with people who are skilled and knowledgeable, in the lifting industry," he said.
"Previously the focus was perceived to be around the number of members. But now it's more about the quality and the influence of those members in each of the operating regions."
In his role as director of William Hackett, the company expanded its warehousing facility by 18,200 square feet leading to an 80% increase in storage capacity in 2020 and recently invited longterm partners of 33 years, McKinnon Chain, as well as Clotan Steel, South Africa to visit the site.
"The UK continues to grow. We just reviewed our half year numbers, which we are very pleased with as they were up by 34% Year-On-Year which is good. We're seeing interest in our Quad Pawl level hoist going from strength to strength and that's now being used in very specialist lifts. Also our ultra low headroom range of hoists," said Burgess.
"We recently supplied to the Middle East, Qatar two 50 ton ATEX hoists with a 10 meter height of lift. I've never seen that specification of hoist in the marketplace before. Doing the proof load testing for that was quite a challenge to the guys in the warehouse, given that each unit weighed over 1.1 tons.
"We've had lots of visitors from the major oil and gas companies over the last few days, including our manufacturing partners from South Africa and McKinnon Chain spend two or three days with us talking about further products and distribution globally. So that's been really positive. (The factory expansion) has been a great asset and a facility that people are interested in, when they see the manufacturing, the proof testing and quality control systems we have here in the UK.
"We are well up to 80% storage capacity now and nearly 100%. There are still some containers that need to come in and we're thinking we could have gone even bigger."
William Hackett will be attending LiftEx 2023 in Liverpool in November where it will announce further developments regarding its offshore products and more additions to its hosting product range.
In terms of what's next at LEEA, he said the association is keen to promote its guidance policies in line with international standards, similar to ASME (The American Society of Mechanical Engineers).
"We've been very much UK-centric in the past where everything has been BS (British Standard) and EN (European Standards) related. So, we are putting additional resources into the international committees and working with them around the ASME standards. For example AS (Australian Standards) in Australia need different policies so that when we are advising on best practice, we know how it fits into those organisations so the members who operate in those countries can be compliant," he said.
Check out the video here: https://www.youtube.com/watch?v=coEJYl-iNpg