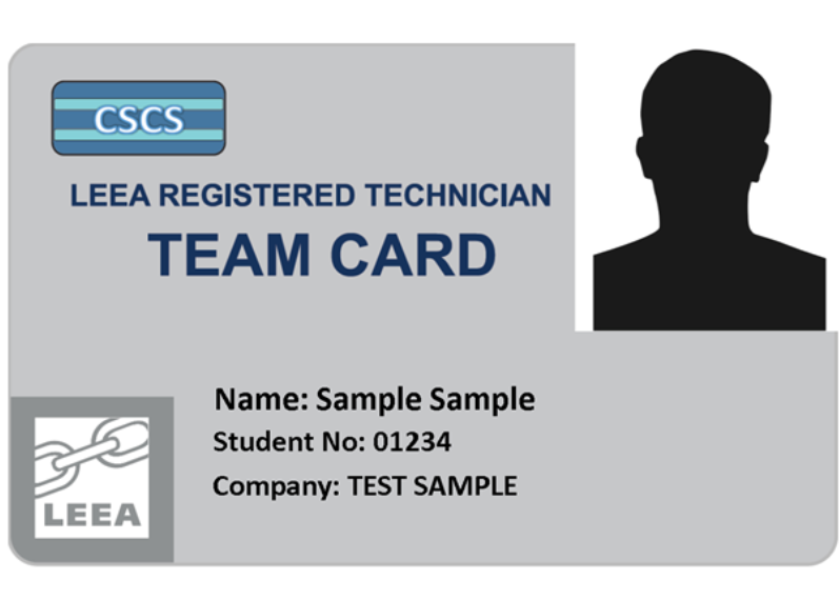 What is a TEAM card?
A TEAM card provides evidence of identity and LEEA qualifications. It is accredited by CSCS and can be used to access all UK construction sites operating under the CSCS scheme.
It is available to people who
Hold a LEEA Advanced Programme or Diploma
Are directly employed by a full or development member of LEEA
We have now launched our one time issued TEAM Cards, and these have a built in NFC chip which provides secure access to verified data by tapping the card against a smartphone. Once tapped it will show the individuals full name, student number, member company, photo, their qualifications & expiry date.
As these are only one time issued cards, there will be charge of £25 for replacement cards, or if any changes to the students information is required, such as a change of employer or photo.
Benefits of the new card:
Members will no longer need to wait for a new TEAM card to be printed and sent by post on completion of a refresher, or when an additional qualification is gained, which makes it instantly verifiable.
This also provides us with cost-saving benefits and helps to reduce our carbon footprint.
How do I check if a TEAM card is valid?
Use the Verify a TEAM Card feature on our website to check the validity of someone's TEAM card. You will need to know the company they work for and their registration number to use this.
You can now download a PDF copy of their TEAM Card data from this page, which can be stored in your employees training records or sent as evidence prior to attending a site.
If you do not have this information, email mail@leeaint.com with your enquiry.
When does a TEAM card expire?
TEAM cards are valid for 3 years. To renew a TEAM card, the holder needs to take a short, online refresher training course for each of their qualifications. This ensures they stay up to date with changes to legislation and standards, as well as reminding them of best practice and key information.
To find out about renewing a TEAM card, click here.