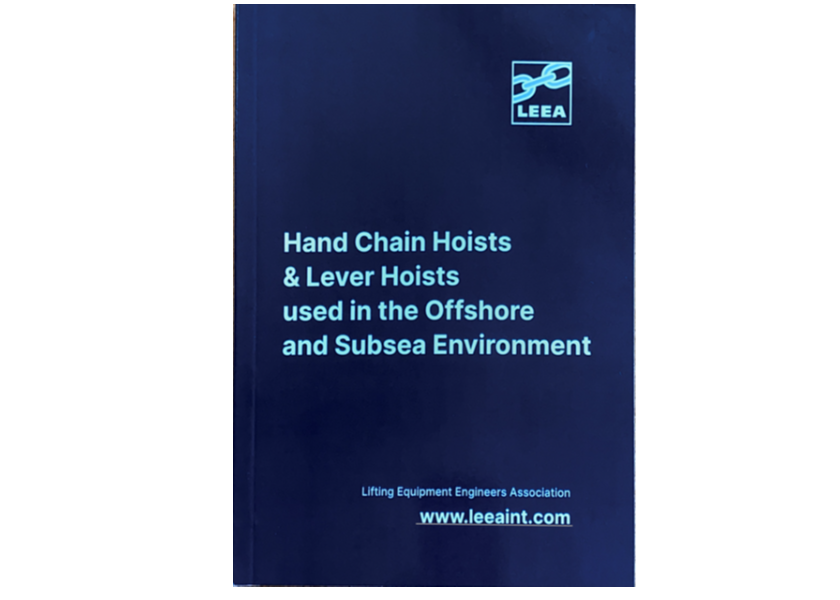 Hand Chain Hoists & Lever Hoists used in the Offshore and Subsea Environment
Non-Members Price
| | 1-9 | 10-49 | 50+ |
| --- | --- | --- | --- |
| UK | £10.00 | £8.00 | £7.00 |
| EU | £10.50 | £10.50 | £10.50 |
| WW | £11.50 | £11.50 | £11.50 |
Members Price
| | 1-9 | 10-49 | 50+ |
| --- | --- | --- | --- |
| UK | £8.00 | £4.80 | £4.00 |
| EU | £8.50 | £5.10 | £4.25 |
| WW | £9.50 | £5.70 | £4.75 |
Individual Trainee Price
| | 1-9 | 10-49 | 50+ |
| --- | --- | --- | --- |
| UK | £10.00 | £10.00 | £10.00 |
| EU | £10.50 | £10.50 | £10.50 |
| WW | £11.50 | £11.50 | £11.50 |
PLEASE NOTE REFUNDS ARE NOT AVAILABLE ON PUBLICATIONS.
WE MUST BE NOTIFIED WITHIN 5 DAYS OF ANY DISCREPANCIES WITH ORDERS RECEIVED.
Quantity
Full Product Description
The Code of Practice for Selection, Management, Use, Maintenance and Examination of Hand Chain Hoists and Lever Hoists in the Offshore Environment including Sub-sea was originally created in response to research by the HSE/OSD into a series of incidents involving hand chain hoists and lever hoists in the offshore industry. This latest version improves on the original requirements of the guide and implements 'state of the art' practices and technologies
Despite that offshore and sub-sea environments are characterised by corrosive conditions, extremes of temperature, and frequent use of lifting equipment up to maximum capacity, the research revealed widespread use of standard industrial products not specifically designed for the rigours of marine applications. The standard of maintenance and management procedures was also found to vary widely.
Selecting lifting equipment most suited to the environment can obviously mitigate some of the additional risks inherent in offshore applications. However, good maintenance, examination, inspection, transportation, storage and control procedures are equally important. The Code addresses all these areas. Alongside offshore applications, it may also be of value in other industries characterised by arduous operating environments.
Contents include –
Legal requirements
Selection of equipment
Information and data requirements
Thorough examination including verification testing
Requirements for transportation, storage and control
Maintenance
Historical records
Planning the lifting operation and safe use of hand chain blocks and lever hoists
Training and competency
Checklists for thorough examination
Model data sheet and report of thorough examination
This publication is a useful pocket size and can be carried around on site.