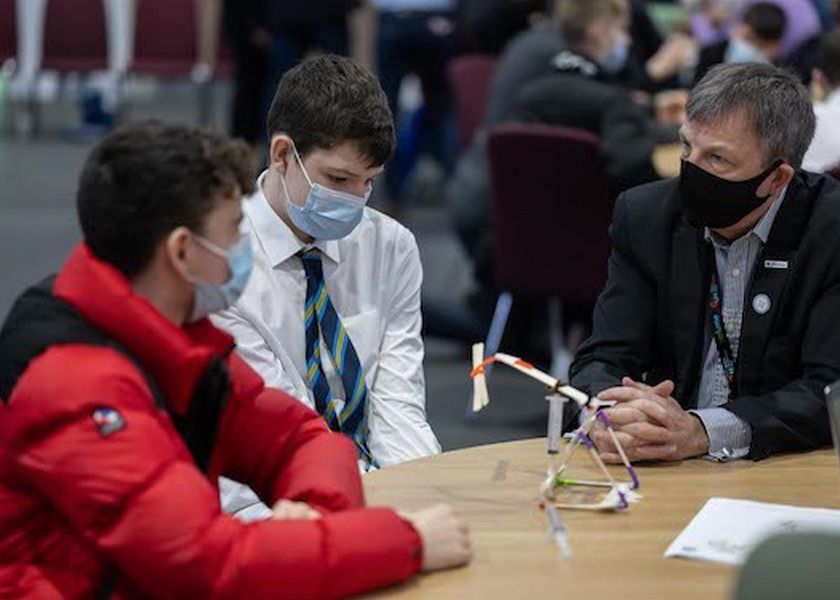 Think Lifting at Subsea Expo
LEEA CEO Ross Moloney joined colleagues Rory Rorison and Robert Wilson to run four Think Lifting sessions at the Subsea Expo, which was held at P&J Live in Aberdeen at the end of February.
They were joined by Cameron Ritchie, the first recipient of The LEEA Award for Excellence, for his final year project / dissertation relating to lifting engineering at Robert Gordon University (RGU) in Aberdeen. Cameron was able to provide his perspective on the opportunities in Lifting as a recent graduate.
The informative sessions, which were arranged by Richard Seaton of LEEA member EMM Corp, saw some 100 pupils from half a dozen local schools divided up into small groups to carry out the fun yet educational practical experiments featured in the Think Lifting programme, launched in association with Lift & Hoist International (LHI) magazine.
The objective of the experiments is to have some fun, while showing pupils that science matters in the everyday world through applying scientific principles to practical lifting. The pupils also gained the insight and experience of Cameron and the LEEA team, before going out onto the exhibition floor to meet exhibitors, including Richard Seaton and EMM Corp, and learn more about the industry.
"It was an extremely enjoyable day," said Ross Moloney. "Think Lifting is proving to be a successful and vital scheme for introducing our industry to its future generation. We are excited to be conducting a similar exercise back at the P&J Live on 6 October, during LiftEx 2022."
He continued: "The Think Lifting school engagement programme is designed to plant the seeds of a sustainable future industry. Its aim is to bring the exciting opportunities of entering the lifting industry to the attention of pre-option secondary school children, aged 11-13, through linking them to the local lifting sector. Performing a vital function in the supply chains of numerous sectors, Lifting offers exciting employment opportunities in manufacturing, construction, aeronautical, entertainment, medical, oil and gas, offshore, renewable energy, the military and logistics sectors. But it remains mysterious to young people. We therefore want to show school children how being an engineer is a skilled, attractive and varied occupation, where they can find themselves on-site doing a multitude of tasks."