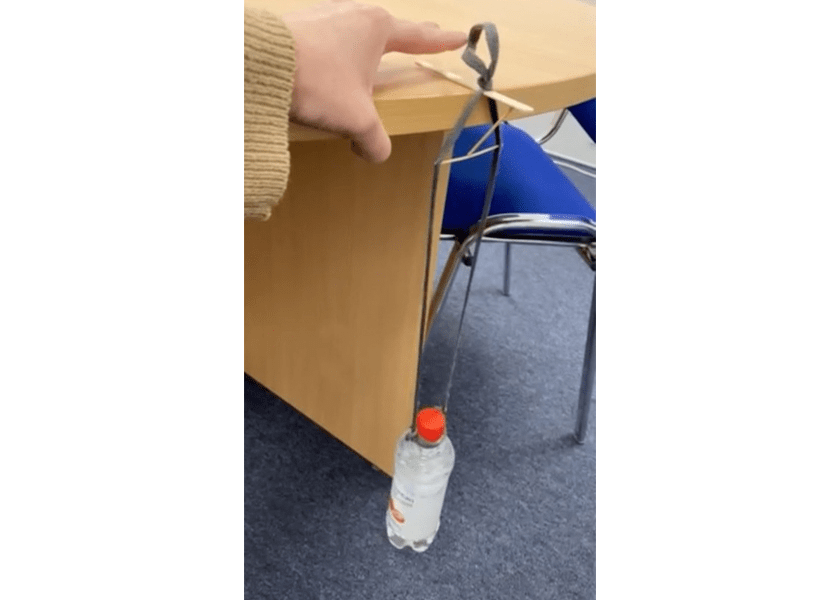 Think Lifting – A new experiment for the arsenal!
Our Think Lifting school engagement programme was created with the aim of inspiring and encouraging children to consider a career in the lifting industry.
We have created a set of resources for a series of experiments designed to make children question the world around them and to see just how integral lifting is.
We know a lot of people have been homeschooling and we hope these experiments have been beneficial to you. We aim to continue to release experiment packs and tutorials for you to use. Here is a new, quick and easy physics experiment that is great for the classroom or to conduct at home! All you need is:
Two cocktail sticks
One lollipop stick (or a third cocktail stick if you're feeling particularly ambitious – it is possible!)
Some thick string – we used a shoelace!
One 500ml bottle
Step 1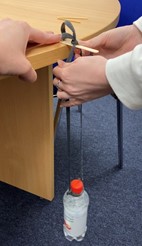 Tie the string around the bottle and then, holding the lollipop stick in place on the edge of a table, hook it over so the bottle is suspended. Ideally, three quarters of the lollipop stick will be on the table with one quarter over the edge.
Step 2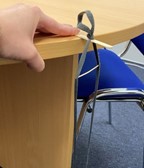 Once the bottle is suspended, fit a cocktail stick a couple of inches down between the strings. It should sit in place snugly, and you'll see it taking up tension.
Step 3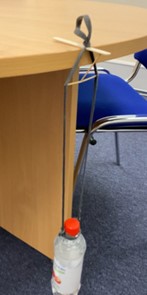 Finally, fit a cocktail stick vertically so that it lodges between the horizontal cocktail stick and the lollipop stick. Tip: cut the edges off the stick so the flat edges can stay in place a bit more easily.
Once everything is set up, you should feel the tension shift – if not, try moving the lollipop stick back a bit. Then let go of the lollipop stick and admire your handiwork!
So, how does it work? Well, the horizontal cocktail stick is held in place by the tension of the string, which in turn holds the other cocktail stick in place. The vertical cocktail stick is key here: once fitted into place, it transfers the centre of gravity to just below the middle of the lollipop stick on the table. As the sticks are held in place by the weight of the bottle, the location of the centre of gravity allows them to hold their structure and hold the water bottle in place.
To find out more about Think Lifting, please email thinklifting@leeaint.com. If you are a LEEA member based in the UK, you can get a free Think Lifting kit that contains three lesson packs! Each lesson has enough equipment for 36 students, suitable for ages 11-14.