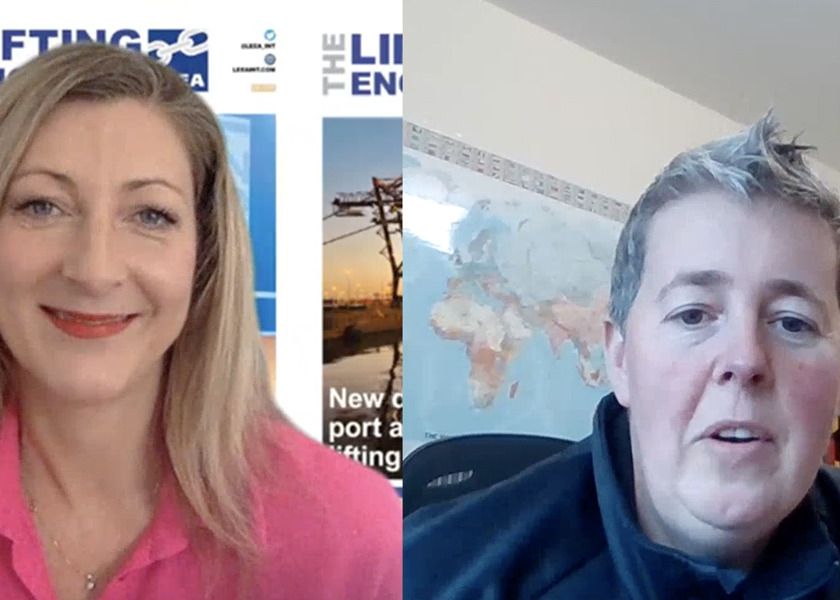 Be my Guest…Rhian Parry
As part of LEEA's YouTube series called 'Be my Guest…' Jenny Eagle, reporter, catches up with Rhian Parry MD, Workplace Worksafe, who is working with LEEA to launch a new load-testing product for the lifting industry.
Workplace Worksafe is an SME in North Wales, which supplies PPE (Personal Protective Equipment and branded workwear to the industry and more recently, has been designing and developing products for the offshore wind farm markets and now naval and offshore oil platforms.
"We've been nudged into going into lifting products, and load-tested products. So to learn more and to get a better understanding of the sector, I joined LEEA a couple of years ago and since then we're now working with LEEA to create and design our own load-tested products, which we're hoping will be sold all over the world," said Parry.
"We've got one product, which maybe goes against the ethos of LEEA, which is a non-load tested product in response to demand. But now we want to evolve it into a load-tested product as well. So customers can choose whether they want a load-tested product or a non-load tested product. That's going to be really exciting because the product we've designed is actually from a sustainable viewpoint, removing the need for single use plastic and single use cardboard from the logistical cycle.
"Manufacturers supply hundreds of thousands of these products to different companies across the world and by swapping over to 20 of our products, you remove half a ton each time of single use plastic."
Parry is passionate about sustainability and the products her team designs at Workplace Worksafe are engineered so that customers will never have to order another one again.
"Surely that is the whole point of sustainability. To remove the need to have anything else. You've got to be genuinely wanting to make a difference," said Parry.
"My business has been going for 18 years. We predominantly work in the offshore wind farm and offshore wind sector and what's really exciting for us is that we're seeing a lot more younger women coming through to the sector, entering into exciting job roles.
"The opportunities for the UK from a lifting manufacturers' viewpoint is insane because when we look towards 2030, we are going to be seeing larger turbines and we need the engineering capabilities to be able to lift them. What's exciting for me is that I work in the wind sector, but we're getting approached by the Navy and the oil platform sectors who are looking to us for our products."
The one thing Parry thinks the industry could do better is knowledge sharing.
"I've spoken to the team at LEEA and they've been fantastic but sometimes the terminology is difficult to understand for a newcomer. I want to design products to the best of my ability - the gold standard of lifting, but to understand that knowledge is not as easy as people think. And sometimes you forget if you work in a certain sector for a long time, when somebody new comes in, it can be terrifying," she said.
"I love collaboration. I've always said if you're the most intelligent person in the room, you're in the wrong room because you should be working with people who can teach you something new.
"Next for me, is the new load-tested product, which I'm super excited about. I want to learn how to make the best, load-tested product for our customers in this sector. And we're working on how we can make more sustainable items. I'm also working on another project where we remove pallets from the supply chain. The UK alone, goes through 1,000,000 pallets a day and a lot of them don't get recycled. So we've come up with the idea of a sustainable recyclable reusable pallet solution. We are never going to remove a million pallets. But even if we could just recycle a few it could make a huge difference."
Click here https://youtu.be/K64QNsQBdQw to watch the video on LEEA's YouTube channel.