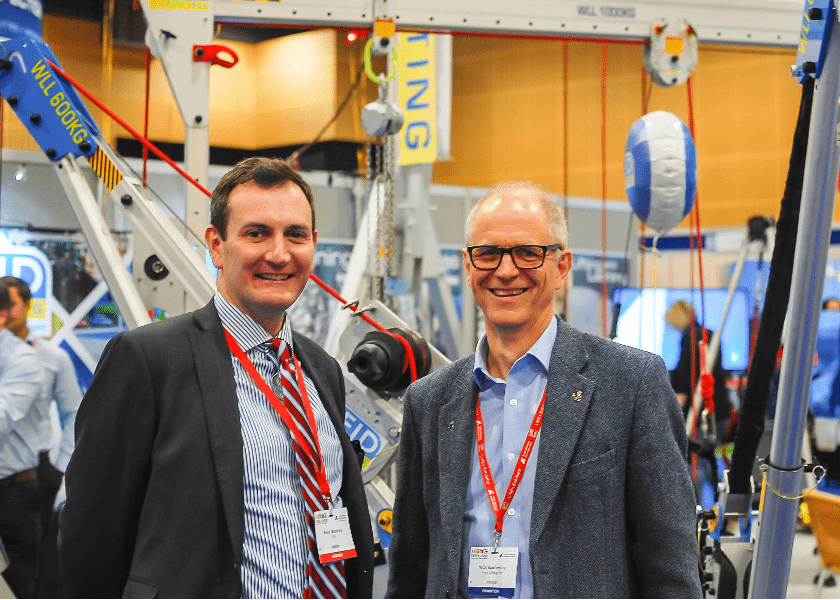 REID demonstrates innovations in portable lifting
Nick Battersby, Managing Director of Reid Lifting, welcomed LEEA CEO Ross Moloney to his company's LiftEx 2018 stand where the Porta-Gantry Rapide 1000 lightweight, deployable gantry was being launched. "This 1 tonne rated unit opens up a bigger market for us, particularly for goods lifting as well as for personnel for which it has a 500 kg WLL," said Battersby.
Assembled in less than 60 seconds to give a versatile lifting solution, the Rapide 1000 joins Reid's standard, lighter capacity Porta-Gantry Rapide, which has a WLL of 500 kg for goods and 250 kg for personnel. Long established as a popular choice with hire companies, the Rapide is suited to confined space work and light lifting. Its beam acts as a chassis with transport wheels at one end and a handle built into the other, making it highly portable and easy to assemble, ready for rapid deployment.
Reid also showcased the Porta-Davit Quantum. At 18.5 kg, this unit is lighter than its predecessor yet stiffer, thus incurring less deflection, and has a WLL of 600 kg. Complete with an integrated carry handle, the unit is highly portable making it ideal for numerous applications. One of the biggest, according to Battersby, is for sewage networks. "When a maintenance team with one of these in their vehicle gets a call out, within a few seconds of getting there the kit can be set up, ready to use." He added: "It's also personnel rated, so these are selling extremely well for rope access – particularly in London for maintenance and cleaning in high-rise buildings, where roof space is high value."