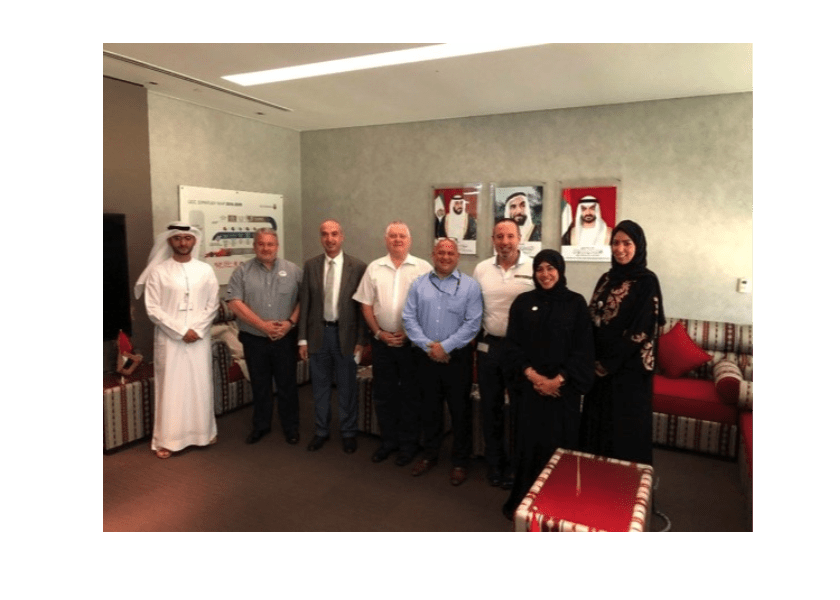 LEEA and ADQCC continue consultations for proficiency testing of lifting equipment inspectors
On 31 July, LEEA's Andrew Wright, Head of Learning & Development, and Kevin Crilly, Head of Member Engagement – East, met with Eng. Osama Melhem of the Abu Dhabi Quality and Conformance Council (ADQCC) as well as Dr Rehab Al Almeri, Director of Emirates National Accreditation (ENAS) at the prestigious offices of ADQCC in Abu Dhabi.
Joined by Eng. Meryem of ADQCC and Mr Youssef of the Emirates International Accreditation Centre (EIAC), a framework was agreed for the continuation of the Proficiency Testing model for lifting equipment inspectors in Abu Dhabi – a joint project between ADQCC and LEEA, which commenced in 2012.
Following several workshops and detailed research, and in support of the new ADS 22/2017 (Abu Dhabi Specification) legislation for lifting equipment inspections, LEEA will continue to work with ADQCC to support its excellent initiative in developing the competencies of regional lifting equipment inspectors.
"LEEA is very pleased to be part of this project, which clearly demonstrates the commitment of our organisation's to lifting standards worldwide," said Andrew Wright, Head of Learning & Development and Deputy to the CEO, LEEA.
For further information, contact: Andrew Wright, Head of Learning & Development and Deputy to the CEO, LEEA. Mail: Andrew.Wright@leeaint.com