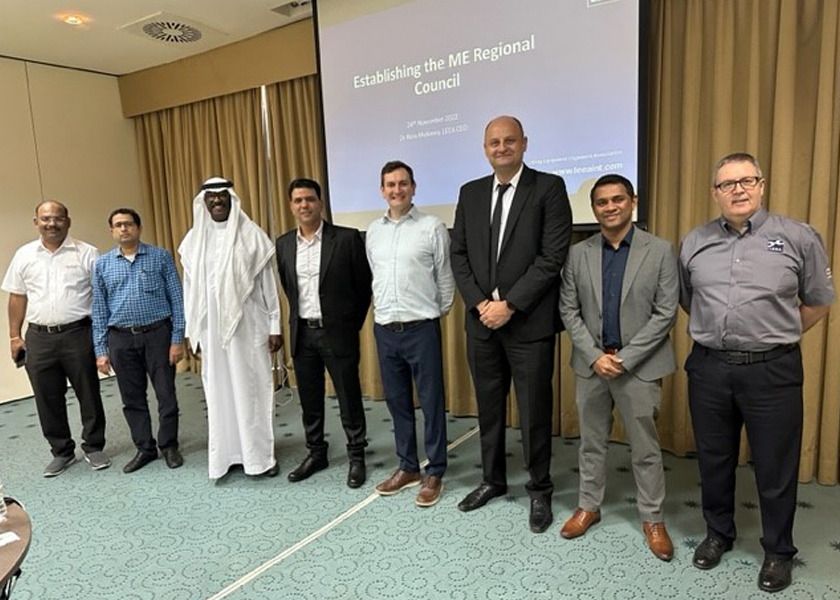 Middle East focus
LEEA CEO, Ross Moloney, reports on the meeting to discuss establishing the Middle East Regional Council, which was held in Dubai on 24 November 2022.
LEEA held an initial meeting in downtown Dubai on 24 November 2022 to establish a dedicated Regional Council (RC) for countries in the Middle East area. Together with LEEA's Head of Member Engagement, Robert Wilson, I was pleased to have the opportunity to outline the aims and requirements of the council to the Full Members from the Middle East region who were in attendance.
Established to deliver LEEA's core vision within the region, the RC will focus on increasing awareness of our membership with end users and procurement professionals, identifying and addressing any gaps in LEEA's services and designing and developing innovative solutions.
We see the RC acting as a key vehicle to improve on LEEA's performance in the region by identifying and resolving issues around training, standards and technical support, events, end user engagement, government/agencies and local press and media.
The RC will be able to achieve these aims through creating a work-plan and helping to direct the Regional Manager's work, which in turn will be directly supported by me, as the CEO. Allocated a cash spend budget, the RC can make the case for additional investment budgets
Other issues the RC may wish to address include licensed training within the region, regional events, region-specific campaigns and an enhanced profile in the Middle East through marketing and end users.
In terms of the mechanics of establishing the RC, it will be the LEEA Board that will establish and appoint the council, which will be chaired by the Regional Board Director. Only Full Members will be invited to serve on it, and they will be chosen on the basis of factors including size, geographical and sector coverage, variety and range of skills. They must also be willing to agree, and adhere, to the Code of Conduct for Directors, and to accept the Terms of Reference.
Meetings will take place on a quarterly basis either in person or via Zoom, with papers issued by LEEA staff. Decisions will be reached where possible by consensus.
So what happens next? We want members who are interested in serving on the Regional Council to identify themselves so they can be proposed to LEEA Board and accepted. With members in place the next step is to create a work plan, which will be proposed to the RC for acceptance. A budget will then be allocated allowing delivery of the work plan to continue through 2023, with progress being reported back.
It was great to meet both our new and former Middle East directors at the meeting. Mostafa Salah, Technical Manager at SCOPE Petroleum Services, has joined the LEEA Board, representing the Middle East region. With eleven years' experience in lifting operations (Offshore and inshore), including planning, inspection, training as well as Quality Assurance and Quality Control management. Mustafa is a member of AGMEP and an international IADC Trainer. He also holds all parts of LEEA training.
I look forward to working with Mostafa during what promises to be a very exciting period for LEEA in the Middle East. He takes over the role on the LEEA board from Yassin A. Al Hussain, who had been a director on the LEEA board for 10 years. I would like to take this opportunity to thank Yassin for his hard work, dedication and excellent contribution to the LEEA board and development of the Association in such an important region.
A key aim for the Association is to win the argument for high quality practices and equipment across the globe and in all supply chains. This meeting represents the next step in bringing decisions closer to our members around the world.