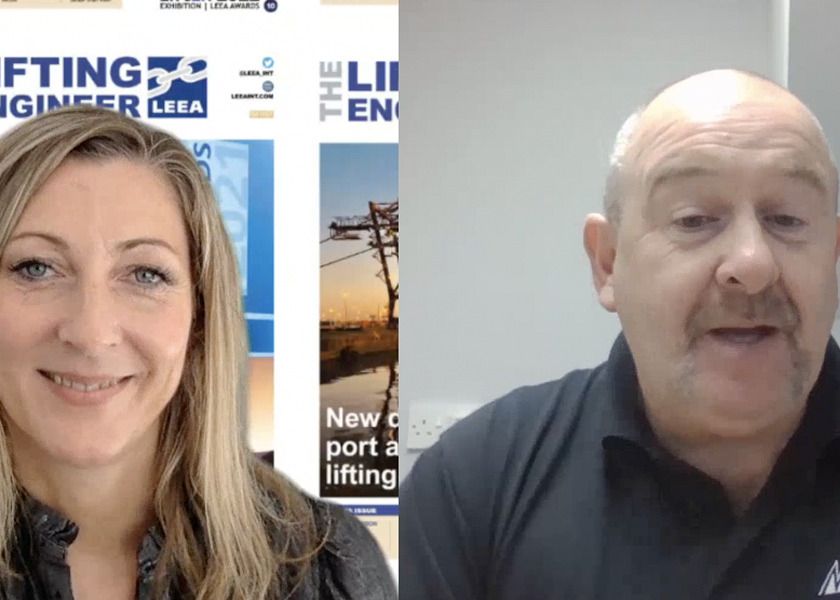 Mentor Training to discuss easy ways to estimate load weight LEEA LiftEx
As part of LEEA's YouTube channel, 'Be my Guest…' series, Jenny Eagle speaks to Andy Cartwright, Technical Manager, Mentor Training., about easy ways to estimate load weight, which he will be presenting at LiftEx in Liverpool next week (November 21).
Mentor Training is one of the largest Materials Handling Equipment (MHE) training companies in the UK, offering a wide range of training across forklift trucks, cranes and health and safety and management courses.
The company is proud to be taking part in LEEA's LiftEx Accredited Training Scheme Seminar at Liverpool Exhibition Centre, at midday on Tuesday 21st November with Andy Cartwright, Technical Manager, Mentor Training, presenting a session on: 'Easy ways to estimate load weight'.
"We'll be taking a number of items that could be readily found in work environments and then going through some equations. Sort of reminding people how to work out radius using Pi and things like that. We're also going to be looking at comparative weights per cubic metre and explaining how to use those calculations to work out the weight of the load you're lifting. Followed by some interactive exercises," said Cartwright.
"We're really looking forward to being involved in LiftEx as we've been there as a participant before and we were delighted to be invited to speak to members, passing on our knowledge so that people can take something away and put it into practice within their own business.
"The biggest thing people need to be aware of when it comes to load estimation is knowing exactly what their equipment can lift and not just assuming. As soon as you assume the weight of something, if you're not 100% sure, you shouldn't be lifting it, and you shouldn't be using it.
"We take out the risk of people having accidents and training them on the equipment they're going to be physically using. It's not about doing complex mathematical equations, 90% of the time the material that comes into your workplace is going to be marked up. It's going to tell you the length of it, what material it's made of and how much it weighs. So then you just look into it to make sure that the equipment you're using can actually lift something, but sometimes you haven't got that label on it or it's come off so it's or piece of material you've not seen before.
"It's having that knowledge and ability to put that into practice. So you know the weight of it and you're making sure it's within the realms of the equipment you're using."
As someone's that's been working within the industry for over 14 years' Cartwright said the best advice he could give to someone is: 'Make sure you've been trained, and make sure the equipment you're using is safe'. So before you use any piece of equipment, carry out pre use checks on it.
"If you need to ask the question, is it safe? You've already answered your own question. Don't guess. If you guess, that's when you're going to have issues, stop what you're doing," he said.
"Take a couple of minutes, go and find your foreman, a supervisor, a manager. Go and speak to someone. Get the knowledge. Make sure you're safe before you carry out any operation and one big thing and probably most people in the industry will tell you is this; Before you actually make a lift, don't just lift it straight up. Do a test lift. Make sure you know your centre of gravity. If the centre of gravity is off, set it back down. Realign it. Check your centre of gravity and then carry it out.
"But most of all, think about yourself, your colleagues and everybody else that can be affected and just make sure you know you're safe. One of our key messages is: 'If you've come to work in the morning, you want to go home at night, make sure that happens for you'.
Watch the full video with Andy Cartwright HERE on LEEA YouTube
Find out more about LiftEx HERE.
Register for Mentor Training's Load Weight Estimation seminar, part of LEEA's ATS (Accredited Training Scheme) HERE.