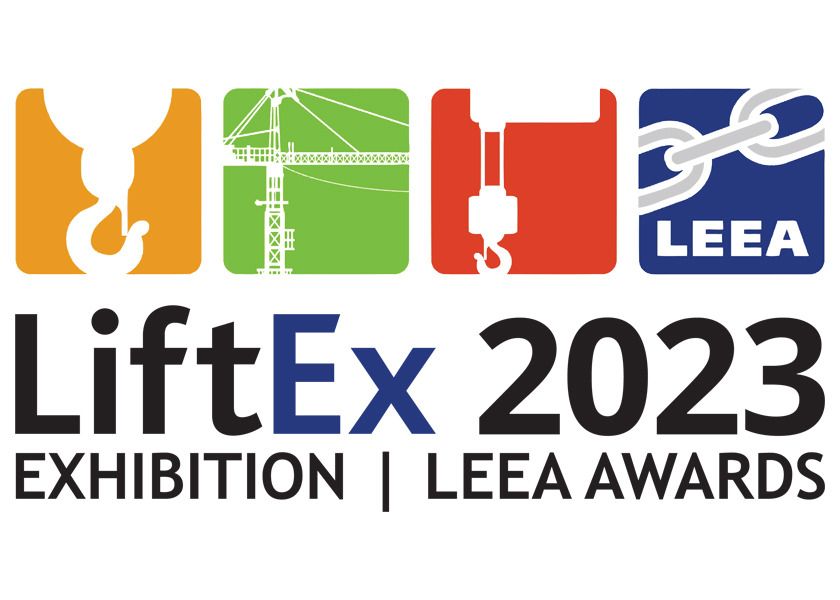 Make a visit to LiftEx 2023 for your lifting solutions
LiftEx 2023 is the unmissable global showcase for the Lifting Industry, taking place at the Exhibition Centre, Liverpool on 21-22 November 2023.
The annual flagship event of LEEA (Lifting Equipment Engineers Association) is free to attend and registration is open now at: https://www.eventbrite.co.uk/e/liftex-2023-tickets-602657353367.
Many companies use a bewildering variety of cranes, hoists, platforms, cradles and their associated chains, ropes, slings and other tackle to lift goods during production and lineside support. People involved with, or responsible for, this equipment in this sector can join over 1,500 industry professionals in catching up with the latest innovations and lifting knowledge from over 100 exhibitors across two days.
LiftEx 2023 is proud to announce CoreRFID, the provider of Lifting Inspection software and RFID technology, as Headline Sponsor of the event, which this year promises to be the best yet. Visitors can catch up with suppliers, view demonstrations and explore the latest solutions from the industry's top vendors.
These will include a broad array of lifting equipment solutions from companies such as Atlas Winch & Hoist Services, Cromax, Delta Hoisting Equipment, George Taylor Lifting Gear, Green Pin (Royal Van Beest), Hird, Modulift, Nautilus Hooks, Pinpoint Manufacturing, Rope and Sling Specialists (RSS), TTC Lifting, Tusk Lifting and Worlifts. Visitors interested in hoists and materials handling equipment will find Davinder Technical Services, GGR Group, Lift Turn Move, Probst and Prolift Handling.
Chains, ropes and accessories will be featured by companies including Bridon Bekaert, Codipro, European Management & Marine (EMM Corp), Hendrik Veder Group, Latch and Batchelor, Lift Turn Move, RUD Chains, Sahm Splice, Talurit and William Hackett Chains. There will be slings and rigging from Aberdeen Web, Crosby, Dolezych, Hendrik Veder Group, Petersen Stainless Rigging, PMS Industrie and Suhbo Industrial Co.
Exhibitors displaying height safety equipment include Guardian Fall, RidgeGear, SafetyLiftinGear, Safehold, SpanSet, Tiger Lifting, Trans-Web and YOKE Industrial Corp. There will be load monitoring equipment from DLM, Load Monitoring Systems (LMS) and Red Rooster Lifting. A range of IT solutions will be shown from companies including CoreRFID, Onix Work, RiConnect and Tele Radio UK.
Stands featuring load moving and transport include Liftket UK. Test machinery can be seen from Structure-flex and there will be administrative services exhibited by IBS Industrial. There will be organisations such as Career Transition Partnership, the MoD's official provider of Armed Forces Resettlement for over 13,000 skilled and experienced individuals leave the military. MND Association, LEEA's chosen charity for 2023 will have a stand as will LEIA Assessment the sole end point assessment organisation for the Level 3 Lifting Equipment Technician apprenticeship in England. LEEA itself will of course have its usual prominent stand for visitors to meet and engage with the Association's team. LiftEx will be celebrating its 18th year in 2023 with a jam-packed event, so keep an eye out for the schedule of on-site activities and show features to be announced over the next few months.
There will also be the celebrated LEEA Awards on the evening of 21 November 2023 – Day One of LiftEx. The fifth annual LEEA Awards ceremony will be held at the Rum Warehouse in Liverpool and with special guest comedian, presenter, actor and singer, Jason Manford, it promises to be the Lifting Industry's party of the year.
For more information on LiftEx, visit https://liftex.org/liftex-liverpool-2023.