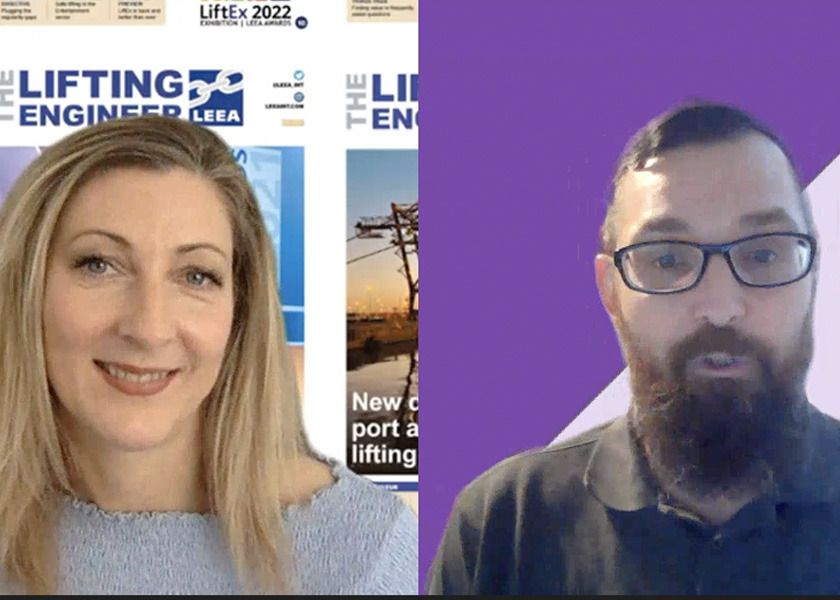 Be my Guest… James Moore, CTP
As part of LEEA's YouTube series called 'Be my Guest…' Jenny Eagle, reporter, catches up with James Moore, Employer Engagement Manager, Career Transition Partnership (CTP), which works with the Ministry of Defence (MoD) and Right Management to support those leaving the Armed Forces and transition into civilian life.
With the UK Armed Forces Day fast approaching next month (June 24), LEEA catches up with James Moore, Employer Engagement Manager, Career Transition Partnership (CTP), to find out what his role entails, breaking down stereotypes that people in the military 'don't all shout and scream to get things done'.
Every year there are approximately 14,000 people that leave the military looking for civilian employment. These people have had varied careers, some have served for a long time, some have served for a short time, but they all have valuable skills to give to businesses.
Having worked with LEEA for a number of years, CTP is trying to work with more trade associations as a bridge to reach out to companies. Normally it works direct with an employer but trade bodies act as an excellent gateway to more contacts and useful advice.
CTP is split into three pillars of support; resettlement services; further education or retirement and employment support. It offers support on how leavers can market themselves to civilian employers such as CV writing, social media, and networking opportunities.
Everybody gets a career consultant as they go through their journey. This includes looking at what training needs they require, for example, there is a training arm within CTP, which delivers vocational training, subsidised by the MoD.
"The Armed Forces is a continuous training environment where you never stop learning. We have been working with LEEA for a number of years now, to promote the CTP to LEEA members the value of employing those that have served in the military. They bring a huge host of skills to the workplace. And adapt very quickly to new workplaces," said Moore.
"I served for 23 years in the Army, and like many people when I left, I didn't really have a clear plan of what I wanted to do because in the military you do a little bit of everything. So I had done some training, HR, and operations. And it was my career counsellor at CTP that found me a job that I had previously done, so I started off as an account manager.
"At first I didn't think I had the right skills for the job and that's key because many of our service leavers don't think that they've got all the skills that employers are looking for and we're trying to convince them that actually, you only need four or five of those skills to submit your application in order to secure an interview and then see what happens from there."
Moore spent two years as an account manager at CTP, working with employers directly, helping them source people from the military talent pool, before being promoted to team manager two years ago.
"My advice is 'Don't pigeonhole yourself'. Don't think that because you've done something in the military, you need to do that in the civilian workplace. Absolutely not. There's a whole range and variety of roles that many military people can go and do," he said.
"You've got to start by being a little bit selfless. One of the things we're taught in the military is selfless commitment. We find it very hard to talk about individual achievements. But now my advice to them is to talk about those achievements because that's what an employer wants to see. They want to see what you bring to the table in terms of your leadership, management, and teamwork. Because that's hugely valuable to employers."
The CTP is a free service, funded by the MoD. Companies that want to register with the partnership, to recruit from the talent pool, can sign up on the website, www.ctp.org.uk on the tab marked employer's registration page. Those details will then be submitted to the account team who will get in touch with you to discuss what you need and help you to connect to the ex-military service community.
The CTP also promotes its services through social media, such as LinkedIn and attends many employment fairs up and down the country.
"We use that as our springboard to tell people what we do, how we do it and promote good news stories. It's not just a job that we try to help ex-servicemen find but their next career path and it can be difficult making that transition because It's a new environment, a new way of working and sometimes your colleagues might not understand the way you've worked in the past. But there is so much opportunity out there that you really shouldn't be put off," said Moore.
"I never, ever thought I would be able to do this job. And it wasn't until my career consultant sat me down and said, you know, you can do this job because you've done elements of it before, and she really teased it apart from me. And that made me realise I could probably do it. It's important to have confidence in your abilities. Think back to how confident you were in the military and bring that into your civilian workplace.
"If your company hasn't got an Armed Forces network, then create one to help people understand what it's like being in the military, dispelling the myth that ex-servicemen are all autocratic who just shout and scream at people. It's not like that."
Moore explained that connecting to LEEA was a great way to increase the professional knowledge of its career consultants, running Q&A sessions with the engineering association.
"We work mainly with employers directly and so, it can be difficult with trade bodies because they're generally not employing, but they're a really good avenue for us to get the message out there about the value of a service person," he said.
"You know we don't all shout and scream to get things done. We're not all institutionalised. It must be scripted, and it must be a certain way. Many ex-servicemen and women are fantastic at thinking outside the box, fixing things with minimum kit and equipment because that's what they do."
For more information and to see the video click on LEEA's YouTube channel here;