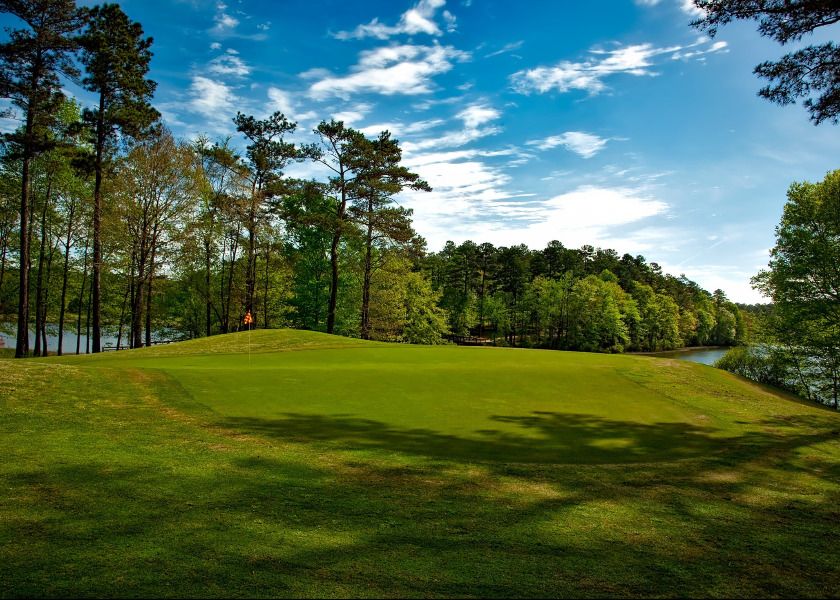 LEEA Golf Day tees off in June 2022
LEEA's annual golf day takes place at the Hilton Puckrup Hall, Tewkesbury hotel, on the edge of the Cotswolds on Thursday 30 June 2022. This event is proudly sponsored and organised by LEEA member, REID Lifting Ltd.
Set within 140 acres of idyllic Gloucestershire countryside, the course offers unparalleled views of unspoiled English landscape and a challenging golf experience. The 6,219 yard, par 70 course was designed by the English Golf Partnership and built to exacting USGA specifications. There are covered driving range bays, a putting green, a short game practice area and a Pro Shop with 10% off all purchases for all attending the LEEA Golf Day. Buggies are available for hire. These are booked for an additional fee of £35 and will be on a first come, first served basis.
The Rules
Shot Gun Start (starting hole to be advised on the day)
Full handicap is to be used for the stableford competition
Maximum allowed handicap is 28 for men and 36 for ladies
Strokes are to be taken at holes according to stroke index
Competition to be played in 3 or 4 balls
In the event of a tie, the back nine, then the back six and then the back three scores will decide the winner. If, in the unlikely event, there is still no winner, there will then be a coin toss to decide.
During the round there will be a further 6 competitions: two for Nearest the Pin, two for the Longest Drive, one for Beat the Pro and one for Hole-in-One. There will be a small (£5) fee to enter the Beat the Pro, Hole-in-One and one each of the Longest Drive and Nearest the Pin competitions. All proceeds will go to our nominated charity. The following Awards will be presented at the drinks reception and dinner.
The Bill Parkinson Trophyis presented to the best stableford score by a LEEA member
The Derek Brant Memorial Prizeis presented to the best gross score by a LEEA member
The Tiger Lifting Trophyis presented to the best stableford score by a guest
The Andy Holden Memorial Trophyis presented to the best gross score by a guest
The President's Putter Awardis given to the player closest to the pin
To book your place, visit www.leeagolfday.com. You can also book your place to attend the evening 3-course dinner and drinks reception only, if you cannot make the Golf Tournament
Many companies involved in Manufacturing will be surprised to discover how much lifting equipment they actually own. Production equipment is fairly obvious, but use of materials handling equipment is growing in yards and warehouses, partly in a bid to reduce musculo-skeletal and repetitive strain injuries. Often there is also rarely used equipment to do with building maintenance. And as industrial change sees buildings repurposed, many facilities contain 'redundant' lifting gear – redundant, that is, until someone unexpectedly tries to use it. All this needs to be taken into account.
The Automotive sector is going through a significant transition as the move towards introducing electric vehicles continues apace. Yet it remains an advanced and highly efficient sector in terms of sourcing, production and distribution. Just in time assembly means the production lines must keep running. Reliability of any lifting equipment or supporting services is paramount.
Lifting equipment is commonly used throughout the Utilities sector – from field operations, infrastructure installation and repairs to treatment centres and energy generation plants to the specialised nuclear plants and the rapidly growing renewables sector. Lifting expertise and excellence in products services and solutions is vital to keep the Utilities sector operating to provide essential services around the world.
Without lifting the Entertainment sector would grind to a halt. Theatre, television and film sets will not be moved, lighting rigs for live concerts will remain on the stage instead of above it. Having the right equipment and services is vital to run successful productions and concerts ensuring they run smoothly, efficiently and are safe.
For all of these sectors and others, LiftEx offers a one stop shop to find services, products as well as to gain the latest lifting related knowledge and insights no matter what the sector. Located this year in the major Oil and Gas centre of Aberdeen, LiftEx offers the perfect opportunity to meet LEEA members and discuss ways they can help, as well as a chance to gain vital lifting related knowledge and insights.
LiftEx 2022 takes place on 5-6 October 2022 at P&J Live, Aberdeen, Scotland. For further information and to register, visit https://liftex.org/liftex-aberdeen or contact Leah Phelps tel +44 (0) 203 488 2865, email: enquiries@L2Events.com.