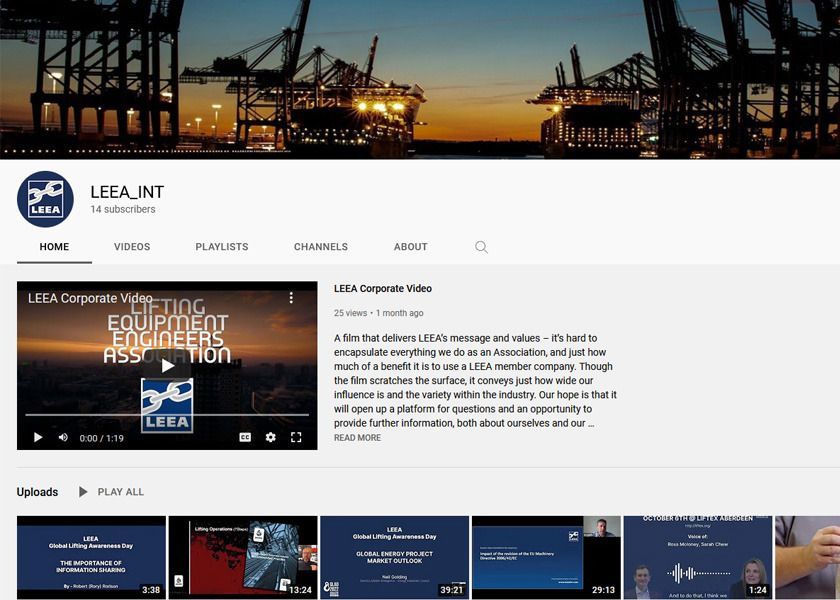 Join the LEEA channel
LEEA is constantly adding new content to its LEEA–INT YouTube channel, which makes it well worth your time to pay regular visits to view the broad mix of films it hosts.
There are the inspiring Think Lifting videos designed to encourage young people into the industry; highlights from LiftEx and the LEEA Awards; presentations from GLAD on a range of subjects such as one trip slings and dropped object prevention; and the informative sector webinars for end users. A constantly growing list of 'Shorts' features conversations with LEEA CEO Ross Moloney on a variety of topics concerning LEEA and the lifting sector including the latest Association developments and ideas. The brief and succinct films are a great way for anybody with an interest in lifting issues and the industry to get a 'hit' of information and inspiration. Subscribe to the channel to keep informed.
One of the films you will find asks the question: 'why apply for LEEA membership?' As 2023 begins, there are few better resolutions than becoming a member of LEEA. Because the Lifting Equipment Engineers Association represents the best, the safest and the most committed in lifting. Members get to use the revered LEEA logo to prove their quality; events and industry representation; third party audits to support compliance and ensure best practice; industry renowned award-winning training and technical support. Applications to become a member can be made via the LEEA website here: https://leeaint.com/join.