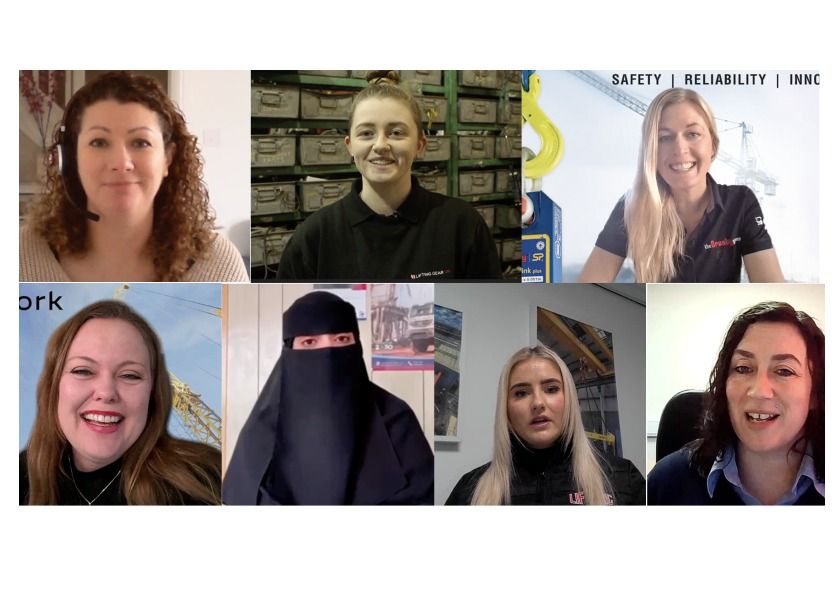 'Be my Guest…' Special Edition, celebrating International Women's Day (March 8)
Anyone can get involved by organising networking events, conferences, workshops and tutorials or just using the hashtag #IWD2023 on social media.
According to EIGE, (European Institute for Gender Equality), closing the gender gap in STEM (Science, Technology, Engineering, and Mathematics) would contribute to an increase in EU GDP per capita by 2.2 to 3.0% in 2050. In monetary terms, closing the STEM gap leads to an improvement in GDP by €610-€820 billion in 2050. Rights Tech Women claims the percentage of women in the USA employed in STEM is around 24% and 23% in the UK.
To celebrate this year's event, LEEA members; Ella Cheetham ,MD, Europa Engineering; Evy Maffini, Customer Success Manager, ONIX; Kat Moss, chair, LEEA; Afaf AbduAlaziz Awasmi, Quality Assurance Officer, QITCOSA; Lisa Ehrborg, Manager, Global Communication and Marketing EMEA, The Crosby Group; Megan Winnard, Relief Operations Controller, Lifting Gear UK, and Samantha Westran, Quality, Environment & Technical Compliance Director, Speedy Services, all took part in a LEEA Voxpop to share their thoughts.
For example, to mark #IWD2023 Europa Engineering Group of Companies including; Europa Engineering; Lifting Gear Products; and Plum Alti, is partnering with OSL Group in Sheffield, and inviting a number of inspirational women to come in and speak to staff offering them advice on overcoming challenges in the workplace.
"We are a minority, and we can be misunderstood, but just because someone else sees you as that, don't let that define you. You are who you are and it's a massive opportunity to stand out and influence others by being a minority. Just because the job might be perceived as a male role doesn't mean you can't do it. It just means someone else might not have been brave enough to take that next step," said Cheetham.
"Once one person is stood there holding the flag, others will follow. It's about being brave and confident. There is so much support today in helping women get into what is traditionally seen as a male role and it's a great time to join the industry and show them what you can do."
Maffini, who has 10 years' experience in the industry, hopes by highlighting this day it will encourage more women to enter the sector. Her company ONIX helps simplify the processes companies need to work more efficiently using digital software.
Awasmi works as a Quality Assurance Officer at QITCO (Quality Inspection & Testing Company Saudi Arabia), a Saudi national company founded by Saleh Ayed Faidmah Balharith in 2021 as a quality inspection and testing company for inspection of lifting equipment and certification, and NDT (Non-Destructive Testing) services for a range of industrial projects across KSA.
Prior to QITCO Awasmi worked as a HR manager for another company owned by Balharith, Saleh Ayed Balharith for general contracting and rig move, which has been working with Saudi Aramco since 1992.
Awasmi paid tribute to LEEA for eliminating risks and raising standards with its training and certificates in the lifting industry.
LEEA chair Moss said: "It's not a male dominated industry on the whole, although that's how it appears. Yes, there are a lot of guys in jobs, but there are also a lot of unsung heroes, women working in this industry, who perhaps don't think they are doing as big, an important job as they are actually doing.
"It would be good if those people could come forward and say, 'I'm working in this industry'. You don't need to be a lifting equipment engineer to be involved. It doesn't matter if you're working in a non-hands on job. If you're there and you're a woman, I'd love it if people could just shout up and say, yes, we are here.
"I know it's a big deal that I am the first woman to become chair of LEEA and in 2023, we shouldn't be having these conversations still, but we are. Hopefully that will change and it will just be this is the right person doing the job at the right time. But that's the same with anything. I was actually asked yesterday how many female engineers are there working in this sector but I don't actually know. I don't know if we have that metric, but it is probably something we should try to find out."
Ehrborg joined the industry five year's ago and witnesses every day how the lifting sector keeps the world in motion.
Winnard said #IWD2023 is important not only to celebrate the achievements of women within the industry but to inform others that there are opportunities out there.
"I've definitely noticed over the last few years, more women coming into previously male dominated roles, whether that be in positions like myself, or out on the road, and it's amazing to see," she said.
Westran has 18 years' experience in the sector and was promoted to director after working her way up through the ranks.
"In my current role, I deal with everything from certification, protection of the environment to technical compliance over assets. I love working in this industry because its varied and interesting and no two days are the same," she said.
Check out the video on our Youtube here: https://www.youtube.com/watch?v=Rjyo5wiNcDs&t=4s