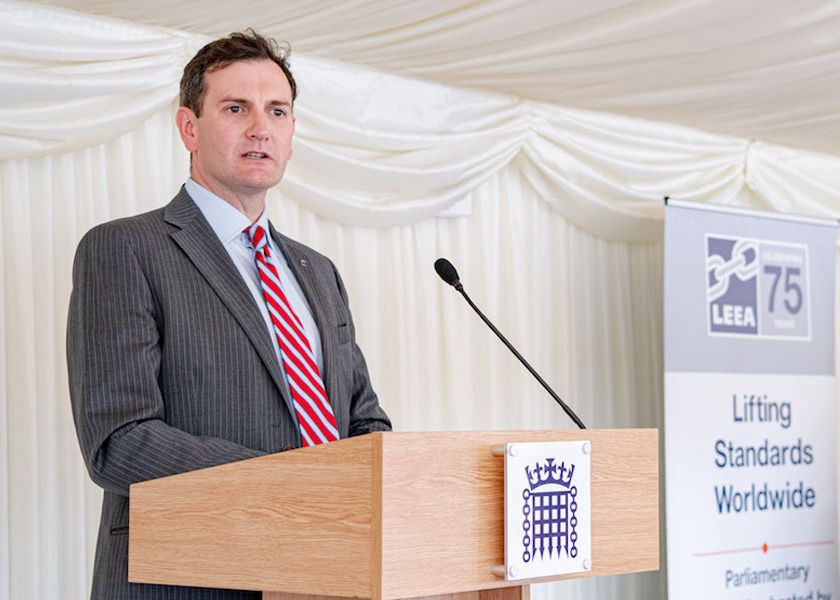 Five years of change
As Ross Moloney, CEO of Lifting Equipment Engineers Association (LEEA) commences his sixth year at the Association, he reflects on the Association's key achievements over that time and looks forward to the year ahead.
Commencing my sixth year as CEO at LEEA has brought home how much the Association has transformed over the last five years, which of course included two 'Covid years'. Technology ranks among the biggest changes because it is now integral to our everyday operations in all aspects of our operations, to the point where it is part of our DNA.
Personally, the thing I find most worthy of pride is how our profile and reputation have improved and grown significantly – particularly with policy makers in government. If the lifting Industry is to be listened to and understood, we must be recognised in the corridors of power. Think about the UKCA marking work we have carried out with the UK government minister responsible and the minister's team. This shows what can be achieved when industry expertise informs legislators. A further example can be found in the hard work that has led to the successful introduction of the Level 3 Lifting Equipment Technician apprenticeship in England. And our members are working on delivering an apprenticeship-like solution in Australia. While our clout is undoubtedly impressive, with these initiatives It feels like we are punching above our weight now where it matters.
There is much to look forward to in the coming year, as our commitment to raising global awareness of the challenges involved in working at height continues. For a start, there is a fresh programme of LEEA-hosted, free-to-view, sector-specific webinars for 2023 that will be announced soon. The sectors to be featured are Military, Nuclear, Utilities and Construction. Delving into safety issues and best practice surrounding lifting, which are specific to these sectors, the webinars aim not only to raise awareness but also to trigger conversations between LEEA members and end users, particularly those further up the supply chain.
Training will continue to elevate to new levels with more courses being launched on LEEA's new Academy 2.0 platform. Developed in partnership with Nucleus Learning, the platform provides a truly global learning offering – accessible anywhere a student has an Internet connection and a web browser and with courses available in English, Simplified Chinese, Bahasa, Arabic and Brazilian Portuguese.
This is particularly timely, given the grim predictions for the global economic outlook in 2023. Among the Association's support for members during these difficult times will be a reduction in training prices. We are confident that training plays an essential role in improving the excellence, productivity and safe practices of our members and makes a wise investment to place a company in pole position to reap the benefits when times of a more favourable economic climate. Lifting will always be essential, and markets are always developing. Take the energy sector, for instance. Small, modular nuclear power facilities, offshore wind and hydrogen developments present many opportunities for the Lifting Industry across the world.
Winning the argument for high quality practices and equipment in all supply chains, with members around the world united in the desire to make our industry safe is a core aim for the Association. The growing momentum behind LEEA's global approach will continue in 2023, with the Regional Council in Middle East taking on the proven and successful model started by the Regional Council model in Australia and New Zealand in 2022. We will also be continuing our collaboration with global associations and organisations as part of a unified approach to safety and excellence in lifting.
Cherished industry occasions are always keenly anticipated at the start of a new year. Global Lifting Awareness Day will return for the established July tradition of spreading the hashtag #GLAD2022 across social media. And of course, LiftEx 2023 and the LEEA Awards 2023 will be held in Liverpool on 21st and 21nd November, with the awards held on the night of 21st.
Whatever this coming year has in store, it will no doubt flash by all too quickly, as seems to have been the case with the last five years. The small example of achievements over that time, which I've reflected on here, give a glimpse of the firm foundations on which we can continue to drive awareness, recognition, education, excellence and safety in the global lifting industry in 2023.