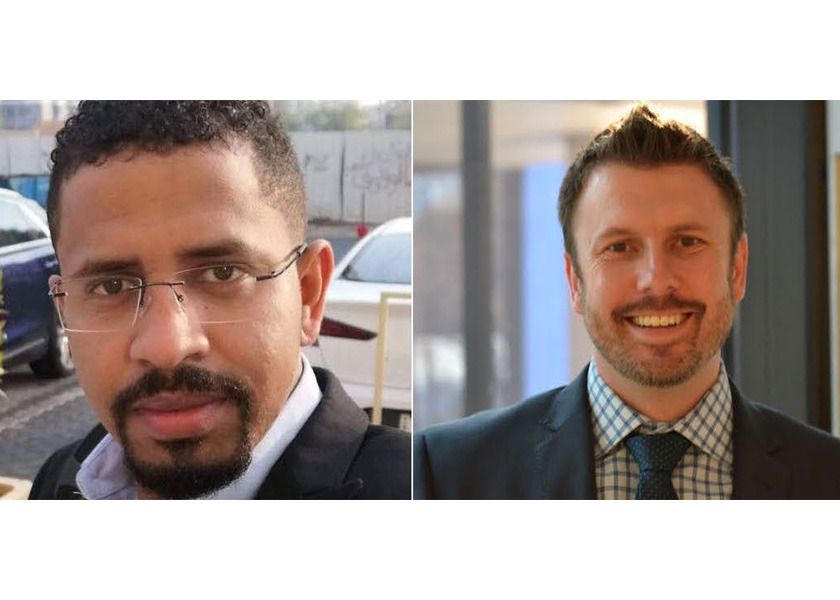 Engaging locally
Amro Hassan and Justin Boehm are the managers for LEEA's Member Engagement Services in the Middle East and Australia and New Zealand respectively – the first global areas to be operating Regional Councils to bring LEEA and its members closer to local end users.
Amro (pictured on the left) is working with the emergent Regional Council for the Middle East, which is chaired by LEEA board member Mostafa Salah Shama, and will be building on the great reputation that the Association has among end users and government entities. After a meeting in March, the Regional Council for the Middle East will announce the members who have joined and its vision and plans.
"Industry is growing fast," says Amro. "There is a growing awareness about the need to develop people, and a safe lifting industry for them to work in. They are looking for associations and partners to help them. We are here for that, so if you operate any lifting equipment, if you want to train your personnel about your internal inventory of lifting equipment and accessories, then LEEA is the place where you can find all of this information for your staff."
The Association has 300 members in the Middle East, which is an important and dynamic area for a global organisation. The vast Construction and Oil & Gas sectors comprise many companies who will be looking for the LEEA logo that, by demonstrating the member has gone through a rigorous auditing process, assures excellence in lifting equipment and services. LEEA membership is increasingly becoming a key performance indicator when bidding for work in the region. The UAE government, for example, was the first in the region to request that companies wanting to be involved in its projects have LEEA membership. It is encouraging companies to be audited through LEEA and gain membership before applying for contracts.
Amro identifies industry in the Middle East as being focussed on the important issues of environment and of health and safety, with the aim of reducing accidents as far as possible. As a safety organisation with the aim to reducing accidents and injuries to zero globally, LEEA will be supporting this.
A Regional Council has been in operation in Australia and New Zealand for over a year where Justin Boehm works with its Chair, Steve Flint, who also sits on the LEEA Board.
Regional concerns here are currently topped by attracting and retaining staff, with record low unemployment. However, work keeps coming, with infrastructure and mining pipeline projects growing.
"It is our time to shine," says Justin. "We will be holding our first ever LiftEx in the Australia and New Zealand region, at the Australian National Maritime Museum in Sydney over 2 days on 24th & 25th May 2023. A whole suite of speakers focussing on the future of the lifting industry will look at where we will be in 10 years." He adds: "The Regional Council has been doing a significant amount of work behind the scenes and this will result in us making a lot of announcements in Sydney, so it is important that all members come along. We will have a lot to talk about."
LiftEx in the Australia and New Zealand region will feature the latest thinking, exhibits and expert speakers from the industry and abroad. It will be looking to the future, addressing complex issues relating to staffing, compliance and business practices. There will be unique opportunities for professionals and enthusiasts to network, learn and discover new opportunities in our constantly evolving industry. Book your delegate ticket HERE.
Watch interviews with Amro and Justin at the LEEA_INT YouTube channel HERE.