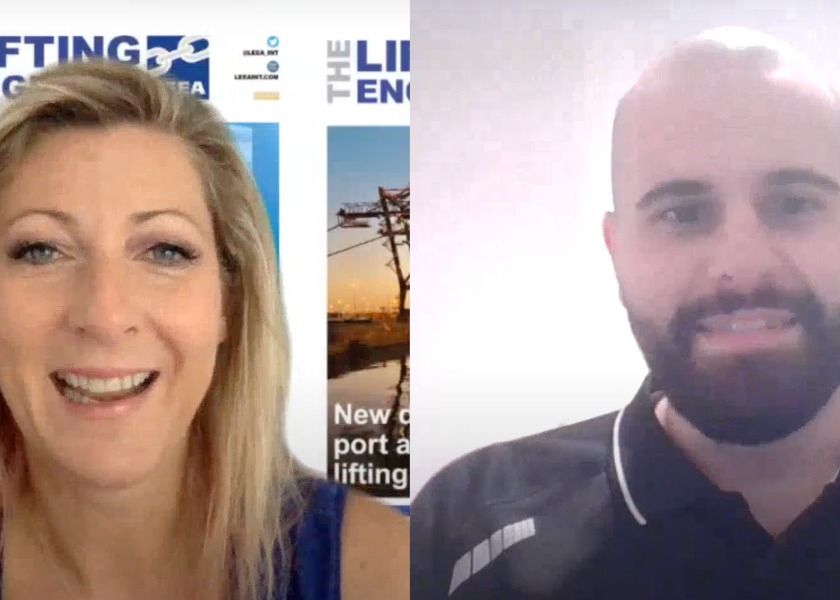 Be my Guest.....Chris Golpashin
Pacific Hoists based in Sydney, Australia, was founded by Dennis Herbert and Ray Danckert in 1976 and is one of the last family-owned wholesalers in Australia. It's been a carbon neutral company since 2020 and tries to engage in all of the communities it operates in.
Today, the company enjoys an enviable market leading position in both the Australian and New Zealand lifting and materials handling markets, working with brands such as Hitachi, J.D. Neuhaus, Vital, Yale and Comeup, as well as its own products.
In 2020, the company partnered with Columbus Mckinnon (CMCO) to become the first strategic partner for CMCO in Australasia and only its third strategic partner in the world.
"Our carbon neutral journey began in 2019 and we became fully certified carbon neutral in 2020. It started with a pre-audit. It was something that The Board came up with as part of our strategy to become the first in the industry to do it," said Golpashin.
"It was our goal to become carbon neutral by 2022 and we actually achieved it by 2020. So two years' early and a bunch of hard work to get there. Hopefully we can influence the industry by leading by example."Our end user feedback has been phenomenal. We see ourselves as a leader in the market, so we're able to go in front of end users and present it in that way. Any product that they get from Pacific Hoists is delivered to them carbon neutral. So with major end users that have that as part of their reporting, we reduce their emissions in some way or another."
Pacific Hoists was also one of the main sponsors and gave a presentation at the LEEA LiftEx Regional conference organised by the LEEA Australia/New Zealand Regional Council, at the Australian National Maritime Museum in Sydney, in May, talking about its carbon neutral journey.
"In terms of what's next, we're looking at installing solar power at our Western Australian facility, which is quite a significant investment, but it's something we've committed to," added Golpashin
"There are a few Australian carbon offset projects that companies can look at. For example, one is the Yarra Yarara Biodiversity Corridor in WA, which is a reforestation project. Then anybody who's looking to offset their emissions can invest in that particular project and it's a local project which fuels the local economy, so you're creating jobs as you do it.
"Another is Savanna Burning Carbon Farming project in Queensland, which supports the local indigenous Aboriginal economy. By burning in the early dry season when fires are cooler and patchy, and burning less country, there will be fewer emissions of these gases, which by association reduces overall emissions."
Pacific Hoists has been a full member of LEEA since 2010 and received its 10-year membership award in 2020. Full membership is dependent upon a company being able to satisfy an audit by LEEA officials which demonstrates the capability and competence of a company to operate to LEEA standards laid down by the association. Pacific Hoists was only the third company in Australia to achieve full membership.
"We are an APCO member as well, which is the Australian Packaging Covenant Organisation and that is where our packaging gets audited to make sure it's sustainable. In the future we hope to reduce the amount of plastic that we use, reducing Styrofoam, making sure that the cardboard is recycled cardboard which is incorporated into our entire business sustainability model," said Golpashin.
"We started reducing carbon emissions with Pacific Hoist in NSW, because if you want to reduce nationally, you've got to choose a location where you can implement it first and now we are extending that to the rest of our branches, simple things like getting rid of vending machines, which can save about two tons of emissions per year, changing halogen lights to LED lights. Very simple things like that.
"When you get into the more complex side of things such as adding solar panels to a building, for example, is gets pretty complex because you don't know how long you're going to stay in that building for. If you have plans to grow, you have to weigh up all the options. So our next plan is to add solar to all of our facilities.
"We have also gotten rid of all of our company cars, so there's not many more left to go. But the ones that we do have we are changing to hybrid cars. It's a constant improvement model and we're not experts at this by any means. Quite rudimentary. But the actual scope of carbon emissions is so broad that we're learning something new with every single audit.
"Waste is a big project we're looking at. Not only to offset the waste that we produce but looking at the economical repair parts that go into our bins. Working with local providers for them to come and take it and use it as scrap metal. When you go down that route, you end up reducing your emissions significantly because you don't put that into landfill.
"It's a constant learning model for us and we're happy to help anybody who is interested as well. So any of our customers who want to learn about it. We've engaged with some of the biggest manufacturers in our industry globally to help them reduce their emissions and move towards carbon neutral. We help consult and guide them in the right way."
Click HERE https://youtu.be/3q-0_VnnOdE?si=NNJTAdzVcaP3YyP- to see the video on LEEA's YouTube channel.