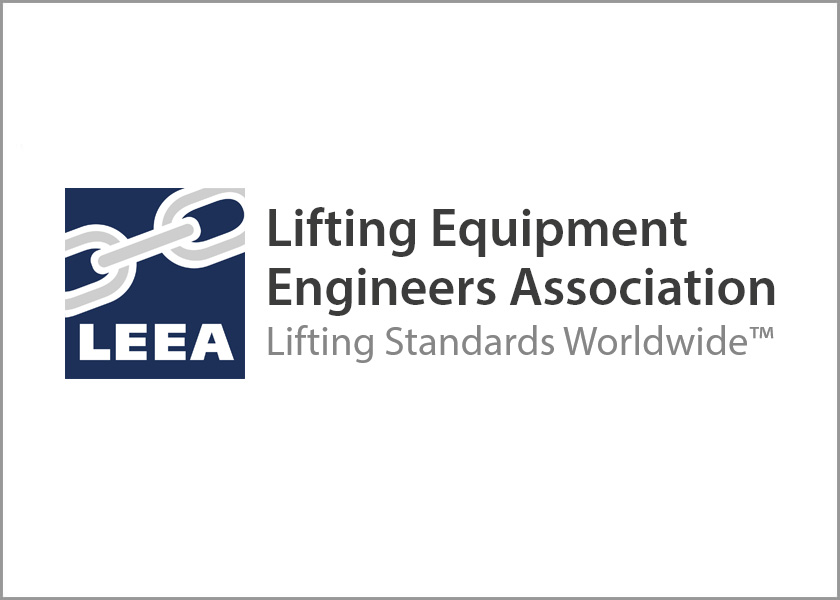 LEEA Awards 2018: you've started, now you may finish
Members who have commenced an entry for the LEEA Awards 2018 at liftex.org by the deadline of midnight 31 August will be granted a further week to complete the application, with a deadline of midnight 7 September 2018.
"We are really impressed at the positive response to the Awards and at the extremely high level of excellence displayed by the large number of entries that we have received so far," said LEEA CEO, Ross Moloney. "We are extending the entry deadline for those members who may have started their entries to give them every chance of not missing out on the opportunity to have their hard work rewarded. Winning an award is not only a great endorsement, it is also a tremendous marketing opportunity to demonstrate your quality to your customers. The LEEA Awards Dinner will be a new and exciting event for our Association and will elevate the industry's profile to new heights."
A technically authoritative judging panel will evaluate all entries and the Awards, together with the Harry Brown Memorial Shield, will be announced and presented at the LiftEx 2018 Awards Dinner by Matt Dawson, MBE. From well-known rugby player to a national TV personality, Matt was a contributor to England's victory at the 2003 World Cup and is Team Captain on BBC1's much-loved 'A Question of Sport'.
The event takes place at 14 November 2018 at the DoubleTree by Hilton Hotel, within the Arena MK complex in Milton Keynes, which plays host to LiftEx 2018.
LEEA is proud to announce that Lift & Hoist Magazine is the sponsor of the LEEA Award for Unsung Hero 2018. Sponsorships of other award categories are available and offer great value for companies wishing to put themselves in front of the Lifting Equipment Industry at the prestigious event. Visit liftex.org to find out more.
The 2018 LEEA Award categories are:
KEVIN HOLMES AWARD
Kevin Holmes, the late Board Director and Chairman of LEEA's Learning and Development Committee, consistently demonstrated a passion for developing people in the lifting equipment industry. In his honour, LEEA has designed this award to reward companies, teams and individuals who display excellence in people development. The judging panel will look for people development initiatives that are innovative and bring a tangible business benefit.
APPRENTICE OF THE YEAR
This award is aimed at LEEA members who wish to recognise the contribution and individual effort that an apprentice has made in the academic year 2017/18. Any apprentice, from any framework and at any level may be nominated. In addition to being presented with an award on the night, the winner will be offered complimentary LEEA e-learning Courses in both Foundation and one of the Association's Advanced Programmes.
INNOVATIVE PRODUCT

This award recognises innovative products and services that contribute to improving the Lifting Equipment Industry. Ideally, such products will be introduced with strategic intent and bring a tangible benefit to the industry in terms of performance, efficiency or safety.
MANAGER OF THE YEAR AWARD
This award recognises the outstanding achievements of managers who are shaping the future of our industry. Judges will be looking to recognise those individuals who have shown exceptional leadership in their role and inspire their team members to higher levels of performance through their actions.
SAFETY AWARD
This award recognises organisations demonstrating products and/or services that provide innovative protection to people from the risk of injury. The judging panel will be looking for a product or service that improves risk management, anticipates and addresses health and safety challenges, and promotes the benefits of a positive health and safety culture.
SUSTAINABLE SOLUTION

This award celebrates an organisation committed to considering the impact on the environment while maintaining profitability. Judges will seek to reward a project aimed at increasing environmental efficiency.
UNSUNG HERO
This award is aimed at LEEA members who wish to recognise those individuals whose support, hard work, dedication and commitment often goes unnoticed. The judges will be looking to recognise employees who deliver exceptional service, consistently demonstrate commitment and passion for their job and/or have reached or exceeded key targets.
CUSTOMER SERVICE AWARD
This award recognises exceptional service to customers in the lifting industry. Judges will be looking for a strategic approach to customer service. They will also be seeking evidence of building positive relations, generating solutions to solve customer queries, effective complaint management and great communication between the organisation and its customers.
ACADEMY AWARDS
Celebrating the achievements of our global learners, the annual Academy Awards will acknowledge students who have excelled in learning and development, achieving the highest of standards. The Harry Brown Memorial Shield will be presented to the winner at the Awards Dinner, and the remaining awards will be presented during the exhibition.

• The Gordon Loveridge Memorial Prize for highest score in the Foundation Assessment paper
• The Cyril McCaully Award for the best assessment paper in each of the Advanced Programmes
HARRY BROWN MEMORIAL SHIELD
The winners of the Cyril Macaulley Award in each assessment category are subsequently considered for the Harry Brown Memorial Shield. This prestigious award is reserved for the best overall Advanced Programme assessment paper.
Please visit our website at https://www.liftex.org/leea-awards-dinner/ for further information about the awards event.