TEAM Card
Raising standards of safety in lifting equipment testing, examination and maintenance.
Question - How do you know if the person responsible for keeping your lifting equipment in a safe condition, is qualified to do the job?
Answer - Ask to see their TEAM card!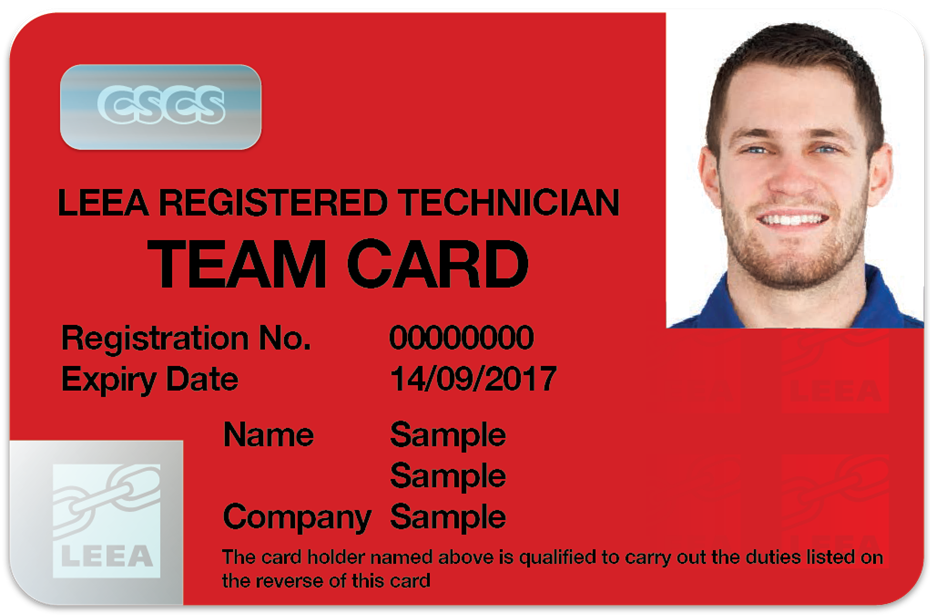 Key Features of the TEAM Card
Linked to the Association's Advanced Programme Assessment scheme.
The TEAM card provides evidence of identity and qualifications.
Only available to Advanced Programme qualified lifting equipment technicians and engineers working for LEEA full and development member companies.
CSCS approved and endorsed for post September 1st 2015 LEEA qualifications
NOTE: Passing the Foundation Course assessment does NOT grant access to the TEAM Card scheme.
To qualify for the TEAM Card, a technician or engineer must be employed by a LEEA full or development member company and have passed at least one of the following Advanced Programme courses:
Lifting Equipment General
Lifting Machines Manual
Lifting Machines Power
Runways & Crane Structures
Overhead Travelling Cranes
Offshore Container Examination
Mobile Crane Examination
Or have attended one or more of the following Intensive Advanced Programmes and passed the end of course assessment
Lifting Equipment General (5 day) Advanced Programme
Lifting Machines Manual (5 day) Advanced Programme
Lifting Machines Power (5 day) Advanced Programme
Runways & Crane Structures (5 days) Advanced Programme
Overhead Travelling Cranes(5 days) Advanced Programme
Offshore Container Examination (5 days) Advanced Programme
Mobile Crane Examination (7 days) Advanced Programme
Valid for 3 years, the TEAM card holds the name, photograph, employment and qualification details of the technician or engineer. Clients can verify whether a TEAM card is genuine by visiting our Verify a TEAM Card page.
Make sure the technicians, engineers and companies maintaining your equipment are part of the TEAM; ask to see the card!
LEEA holds the records of over 10,000 trained technicians and engineers employed by member companies in 56 countries around the world. With 500 new trainees each year LEEA members are staffed with the key personnel to ensure that your equipment is maintained in prime condition ensuring safe and trouble free working.
TEAM Card Renewals
TEAM Cards must be revalidated every 3 years. This can be done by completing a short, eLearning refresher course, following which we will automatically send your new TEAM Card in the post on completion of the refresher courses for each diploma/advanced programme registered to the card.
TEAM Card Refresher Courses
To find out about TEAM Card refresher courses click here.
LEEA Academy
Run for over 60 years and regularly updated, LEEA training courses are the industry benchmark; recognised worldwide, the online training modules or 5 day intensive courses lead to a written assessment. Successful candidates are awarded an Advanced Programme certificate in the specialised subject area studied.
Full details of can be found on our LEEA Academy page.