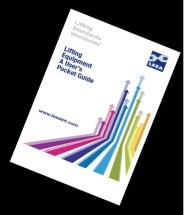 Lifting Equipment - A Users Pocket Guide Revised Edition 2014
DISCOUNT IS AVAILABLE FOR LARGE QUANTITIES
Non-Member price: £10.00 (EU: £10.50; WW: £11.50)
Member price: £8.00 (EU: £8.50; WW: £9.50)
Individual Trainee price: £10.00 (EU: £10.50; WW: £11.50)

Details of applicable shipping charges can be found here.
PLEASE NOTE REFUNDS ARE NOT AVAILABLE ON PUBLICATIONS.
WE MUST BE NOTIFIED WITHIN 5 DAYS OF ANY DISCREPANCIES WITH ORDERS RECEIVED.
This pocket guide is aimed at persons already trained or undergoing training as a rigger and/or slinger, this pocket sized guide is a ready source of reference, a tool of the trade.
Based on the Association's authoritative Code of Practice for the Safe Use of Lifting Equipment and illustrated throughout, it summarises in three parts the most relevant information for the inspection and safe use of a wide range of lifting equipment.
Part 1 provides:
A summary of the legislation covering the supply and use of lifting equipment explaining the changes currently taking place.

A detailed lifting procedure covering general lifting operations and which can be used as the basis for most specific operations.

Guidance on the selection and use of lifting machines and supporting structures.

Guidance on the selection and use of lifting gear.
Part 2 provides:
Twenty-six specialised sections each dealing with a particular type of lifting equipment.

The key points to be observed for the safe use and in-service inspection of each item of equipment.
Part 3 provides:
Information about the Code of Practice for the Safe Use of Lifting Equipment.

A glossary of terminology.

Illustrated crane signals.

Guidance on load estimation - weight and centre of gravity.

A comprehensive index.

An angle guide.
The equipment covered in Part 2 is:
Electric overhead travelling cranes

Hand chain blocks

Hand operated chain lever hoists

Lifting and pulling machines (wire rope grip)

Power operated blocks

Winches used for lifting

Travelling girder trolleys

Beam clamps

Slewing jib cranes

Runways

Mobile gantries

Jacks

Chain slings

Wire rope slings

Flat woven webbing slings

Roundslings

Fibre rope slings

Shackles

Eyebolts

Lifting beams, spreaders and frame

Plate clamps

Rigging screws and turnbuckles

Barrel lifters

Crane forks

Magnetic lifters

Vacuum lifters
Format:
The guide is A6 size - ideal for the pocket, perfect bound with laminated cover, comprising 130 pages. Fully indexed for quick reference.