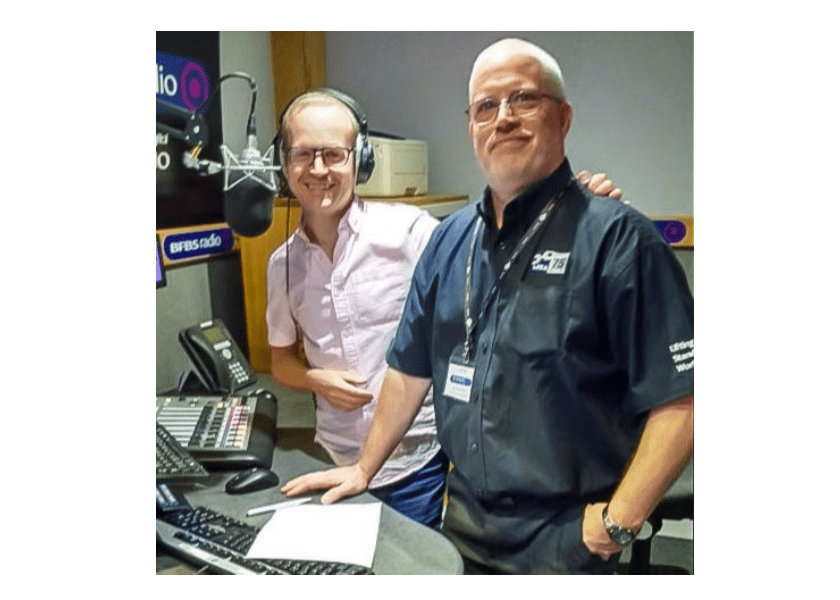 LEEA broadcasts 75/75 programme to UK service personnel
LEEA's Training manager Baz Trewhella has taken to the airwaves to discuss the 75/75 Military Engagement project with British Forces Broadcast Services broadcaster Tim Humphries, during a visit to BFBS in Buckinghamshire. You can listen to the interview, which is being broadcast on radio to UK service personnel around the world, below.
LEEA is currently training 51 individuals and is in the process of arranging the first work placements. Any members interested in providing placements for these exemplary individuals, please email Baz.Trewhella@leeaint.com, or call +44 (0)1480 445442.
The 75/75 programme is among the schemes conceived by LEEA to celebrate its 75th anniversary throughout 2019. The multi-faceted idea will assist service leavers and veterans of the military into employment and help the lifting industry recruit exceptional new talent.
The programme sees LEEA providing free training at foundation level to service leavers/veterans thus giving them a foot hold into the lifting industry.
Given a significant number of employees in the association itself are veterans of the military, then who better to engage with a pool of highly skilled and adaptable people? With this in mind, LEEA has contacted a number of supporting organisations for military service leavers and veterans, including the Career Transition Partnership (CTP), The White Ensign Association (WEA) and the REME Association Job Agency (RAJA).
Baz Trewhella commented: "LEEA's aspiration for this project is to train 75 personnel who are service leavers or veterans by the end of 2019. Running in tandem with this training, we hope to achieve 75 job placements with either LEEA members or other organisations in the lifting industry that are interested in employing people who have considerable and unparalleled life skills and will have already achieved the initial necessary training requirement for the lifting industry."
For further information please contact Baz.Trewhella@leeaint.com, or call +44 (0)1480 445442.
ENDS
www.leeaint.com
Editor Notes
About LEEA
The Lifting Equipment Engineers Association (LEEA) is established across the globe as the leading representative body for all those involved in the lifting industry worldwide.
It is the respected and authoritative representative body for its members who work in every aspect of the industry, from design, manufacture, refurbishment and repair, through to the hire, maintenance and use of lifting equipment.
The Association has played a key role in this specialised field for over 70 years, from training and standards setting through to health and safety, the provision of technical and legal advice, and the development of examination and licensing systems.
LEEA represents its members at the highest levels across a range of both public and private bodies, including various government departments, as well as nationally and internationally recognised professional and technical institutions. www.leeaint.com @LEEA_INT
For media queries contact: Ross Matthews, director, AMA PR: 0208 123 1900
07711 347 701 or ross.matthews@amapr.com @amaprlatest
For LEEA Enquiries contact:mail@leeaint.com