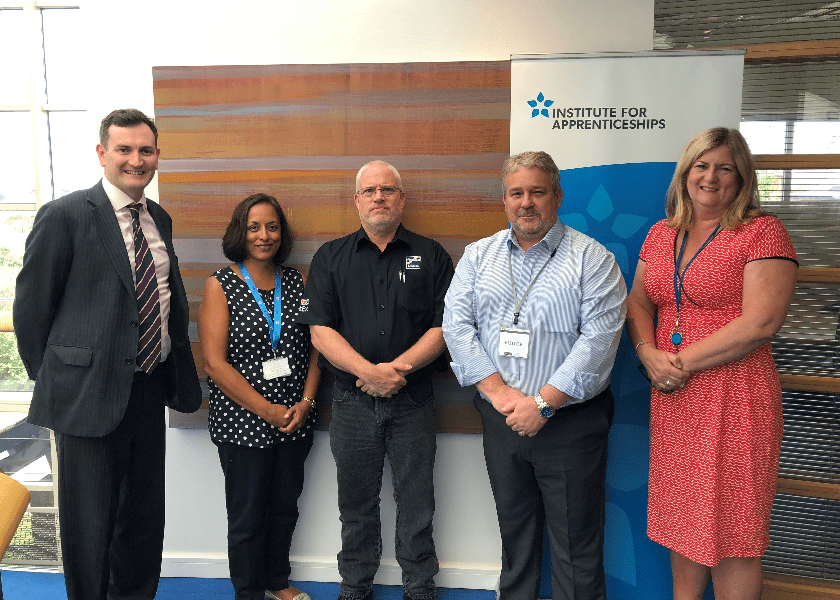 Consultation commences on LEEA Apprenticeships
PRESS RELEASE

August 2018
On 19 July, Ross Moloney, CEO of the Lifting Equipment Engineers Association (LEEA), Andrew Wright, Head of Learning & Development (LEEA), and Baz Trewhella, L&D Project Specialist (LEEA) met with Benita Notley, Head of Standards Development at the Institute for Apprenticeships (IFA) and Bhavena Patel, Relationship Manager (IFA), to begin the process of developing an apprenticeship standard for the lifting equipment industry.
Following initial discussions with the IFA and having identified a gap in the apprenticeship scheme for the occupation of 'Lifting Equipment Examiner', LEEA will now be inviting its members to come together to form the necessary 'trailblazer' group, which will meet to work out what the sector actually needs from its future workforce.
Interested members must be committed to take on apprentices in their own businesses and willing to contribute to the drafting of an occupation proposal, which will in the future form an apprenticeship standard. LEEA will facilitate the trailblazer group and be the conduit for communication with the IFA. At this stage, the apprenticeship trailblazer group will be limited to LEEA members in England, although other UK Government bodies will also be approached to discuss similar standards for apprenticeships.
Andrew Wright commented: "In our specialised, safety critical industry, it is of paramount importance that we provide a recognised occupation and career progression pathway which will not only encourage newcomers, but also upskill existing personnel, developing the knowledge, skills and professional behaviours. This will benefit our members through establishing a well-trained, sustainable workforce for the future, adding value and lifting standards worldwide."
For further information contact LEEA: mail@leeaint.com or visit www.leeaint.com.
ENDS
Editor Notes
Pic Caption: (L-R) Ross Moloney, LEEA CEO; Bhavena Patel (IFA Relationship Manager); Baz Trewhella (LEEA L&D Special Projects); Andrew Wright, Head of Learning & Development (LEEA); Benita Notley (IFA Head of Standards Development).
About LEEA
The Lifting Equipment Engineers Association (LEEA) is established across the globe as the leading representative body for all those involved in the lifting industry worldwide.
It is the respected and authoritative representative body for its members who work in every aspect of the industry, from design, manufacture, refurbishment and repair, through to the hire, maintenance and use of lifting equipment.
The Association has played a key role in this specialised field for over 70 years, from training and standards setting through to health and safety, the provision of technical and legal advice, and the development of examination and licensing systems.
LEEA represents its members at the highest levels across a range of both public and private bodies, including various government departments, as well as nationally and internationally recognised professional and technical institutions. www.leeaint.com @ @LEEA_INT
For media queries contact: Ross Matthews, director, AMA PR: 0208 123 1900
07711 347 701 or ross.matthews@amapr.com @amaprlatest
For LEEA Enquiries contact:mail@leeaint.com