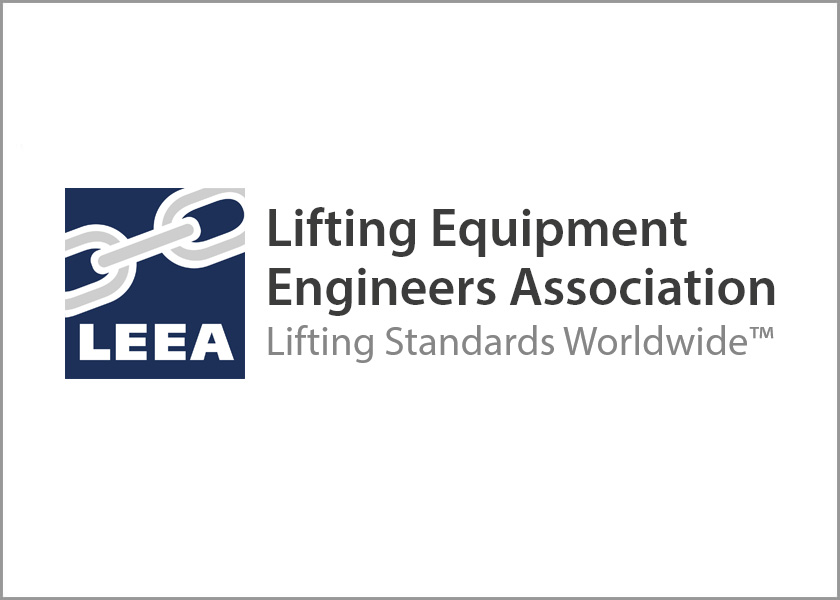 TEAM Card for lifting equipment engineers accredited by CSCS - the leading skills certification scheme in UK construction
LEEA (Lifting Equipment Engineers Association) has announced that its TEAM identity card for lifting equipment examiners has been accredited by the CSCS (Construction Skills Certification Scheme), the leading skills certification scheme within the UK construction industry. As a result, the TEAM card will now carry the CSCS logo, providing contractors and housebuilders with assurance that the holder has the training and qualifications necessary to conduct thorough examinations of equipment such as cranes, hoists and slings. Under the requirements of LOLER (Lifting Operations and Lifting Equipment Regulations), all lifting equipment must be subject to periodic thorough examination by a competent person to ensure it remains safe to use.
Most principal contractors and major housebuilders now insist that workers on their sites carry either a CSCS card, or an accredited card for occupations not directly covered by the scheme. Launched in 2009, the TEAM Card is issued exclusively to employees of LEEA members that have passed the association's industry-recognised Diploma qualification. It is supported by a log book detailing the holder's relevant work experience, and must be renewed every three years. The card holder's details can be verified online at www.leeaint.com
Accreditation of the TEAM Card follows a rigorous audit by the CSCS of LEEA's training, qualifications and registration scheme. Founded in 1944, LEEA has over one thousand member companies and organisations worldwide, and operates from a head office and dedicated training centre located in Huntingdon, Cambridgeshire.
"Overhead lifting is an essential element of virtually any major building project, and it is vital that employers use only genuinely competent personnel to undertake thorough examinations of the equipment involved," said Geoff Holden, chief executive of LEEA. "CSCS accreditation is a powerful endorsement of our training, qualifications and the TEAM card scheme, and will help the construction industry to both strengthen safety standards and fulfil its legal obligations."
Press contact: Anthony Nicolson, Anthony Nicolson Marketing Services, 21 Walton Street, St Albans, Herts AL1 4DQ
Tel: 01727 832309 Mobile: 07941 182979 Email: anthony.nicolson@zen.co.uk
Reader enquiries: LEEA, 3 Ramsay Court, Hinchingbrooke Business Park, Huntingdon PE29 6FY
Tel: 01480 432801 Email: mail@leea.co.uk www.leeaint.com
About CSCS
CSCS (Construction Skills Certification Scheme) is the leading skills certification scheme within the UK construction industry. CSCS cards provide proof that individuals on construction sites have the required training and qualifications for the type of work they carry out. The Scheme keeps a database of people working in construction who have achieved, or are committed to achieving a recognised construction related qualification. Most principal contractors and major house builders require construction workers on their sites to hold a valid CSCS card. CSCS is a not-for-profit limited company. Its directors are from employer organisations and unions representing the breadth of the industry. The Scheme's applications processing and contact centre is delivered under contract by CITB (Construction Industy Training Board).
Further details can be found at www.cscs.uk.com